The Feature of Our Scheduling eMail sending Software - Create Popular Sender Directly
What is popular sender?
In fact, "Sender" is called "SMTP account" in our scheduling email sending products.
Because the normal users may don't understand what is SMTP (Simple Mail Transfer Protocol), and SMTP are supported by most email providers, so, called it as "Sender" is appropriate. You can also understand it as "eMail account".
Follow this sense, the "popular sender" means that the email services which are used by many people. Such as Gmail, Hotmail and Outlook.com.
Why need this feature in our scheduling email sending products?
Since many users use the popular email services to send emails, so we designed this feature to:
Reduce your workload - do not need to input the common settings for your email account in our task scheduler send email program, such as server, port, connection protocol, if needs authentication, etc.
Standardize the SMTP settings for the popular email providers, in order to keep them up-to-date as the official settings.
Most important: you may do not know the settings of your email account, with this feature, you no longer need to read the official help, ask someone, Google or guess for the SMTP settings.
For above reason, this feature is very friendly for you.
How to enjoy it in our delaying sending email software?
Click <Options> button on the toolbar, under the SMTP accounts tab page (default one), click <Add ->> button, you will see the supported popular email accounts for direct creating. Click one of them, you will be guided to the "Add SMTP account" interface, fill [User], [Password] and [Display name], it will work. The operations like below screenshots: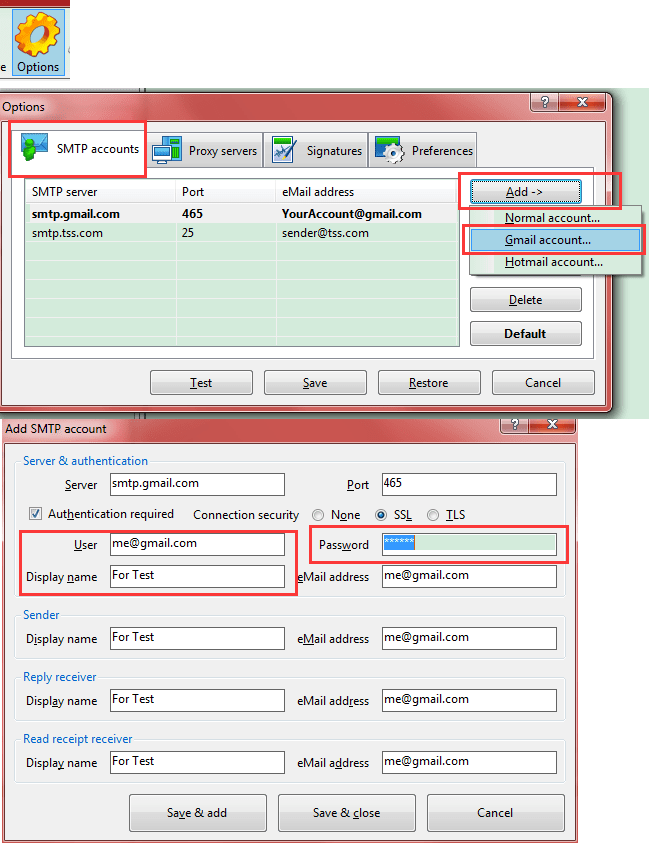 Screenshot: to delay sending email, you must create a SMTP account first.
Now, our task scheduler send email programs support to create Gmail (also support your enterprise email with set in Google App) and Hotmail (also support other Microsoft email accounts, such as @outlook.com) directly.
Creating email account is a basic and first thing to use our
automatic email
sender, to know more other great features, please have a try:

Download Our Task Scheduler Send eMail Application to Delay Sending eMails!