The Feature of Our Sending Scheduled eMail Software - Auto-complete
What is auto-complete?
In general, "auto-complete" means that when you are typing something, only need to type a little characters even without typing, the balance data will show or be filled automatically.
For example, in MS Word, after you typed "2016-", it will show "2016-09-21" (for today) and prompt you pressing <Enter> to insert it (current date).
Why need auto-complete function in our sending scheduled eMail program?
Save your time – typing less and getting more.
Avoid the mistake - keep a standard typing.
Where can I enjoy the auto-complete feature and how to use it?
1. SMTP account editor.
When you typing in the first [Display name] and [eMail address] fields, our sending automated emails programs will fill other [Display name] and [eMail address] fields as the same values. Because in most cases, you will use the same display name and email address for authentication, sender, reply receiver and read receipt receiver.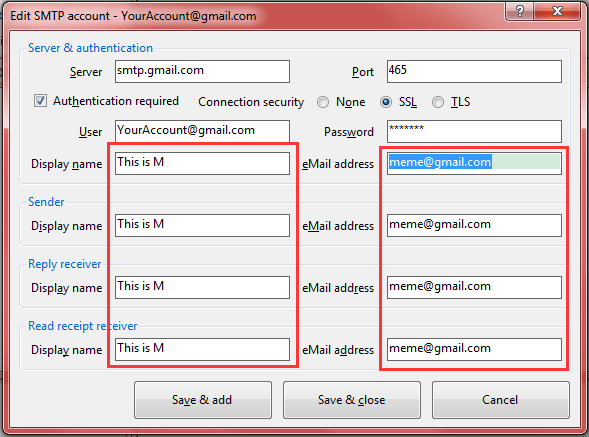 Screenshot 1: how to schedule emails? Please create your SMTP account.
If you want to use the different ones, just change them on the corresponding fields.
2. Typing recipients (To, CC and BCC fields)
When you typing in the To/CC/BCC fields under "Input/Import" mode, our sending automated emails applications will prompt you the matching recipients which have been used or saved already.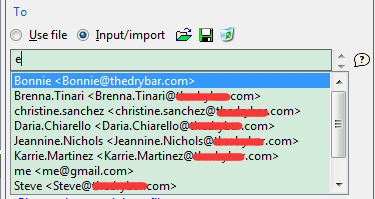 Screenshot 2: how to schedule emails? Please create your email template.
When you see the drop-down list, just use <Up/Down> arrow keys to select your want, and the press <Enter> to fill it in the text box. Or just simply click the right one, also works fine.
The auto-complete feature is just for you use the user interface, to know about more internal features of our
email scheduler
, please download it and have a try:

Download Our Sending Automated eMails Software to Know How to Schedule Emails!